Before we talk about how to implement QA in our project, let's go over the QA role & responsibility.
Amazing Technology
We are living in a fantastic technology era. If I compare the '90s' technology to today's, we will see many differences, but there is one issue that I would like to discuss: product quality.
Today, most people are not satisfied with a "working" product. They want it to have zero failures, be of high quality and have a lovely user experience. High-tech companies also align with these requests, and they are trying to release high-end products. In an era of more than 7.8 billion people, the competition is enormous, and the value of money is the biggest role to play by.
What is the connection to Quality Assurance?
The role of the tester is to verify and validate everything in the product to ensure that it meets the standard and provides the stakeholder with the product they want.
Quality Assurance ROI
Software tests save money – sound like a paradox? Think about that again. If our clients found bugs in our product, they can replace our product with our competitions', they can embarrass us on the social networks, and they also can sue us if the bugs cause them to lose money, or maybe use it to their advantage against us. An additional area where QA saves money is during development. The sooner the bug is exposed, the more money is saved. As a QA, I have often asked questions regarding the user story that causes the developer to think about what causes them to deliver a quality feature. In some cases, I found failures in the requirements that cause the feature to be redesigned and to deliver a better solution at the end.
Software testing securing the data – when you are launching any product on the network, you are taking a risk. The database can be hacked, and your reputation can go down the drain.
Verification – the role of the tester is to drop to details and verify that all are as defined. This simple action is not so simple. In some cases, the product manager takes responsibility for this action, which causes decreased attention to details and results in many mistakes; it also takes time that the product manager can use for doing his work.
Validation – the customers, must be happy, or we can lose money. If the feature we developed is not what the customer wishes for, we didn't hit the target. This is an unpleasant situation. One of the QA roles is to work together with the stack holders to ensure we are building the right system.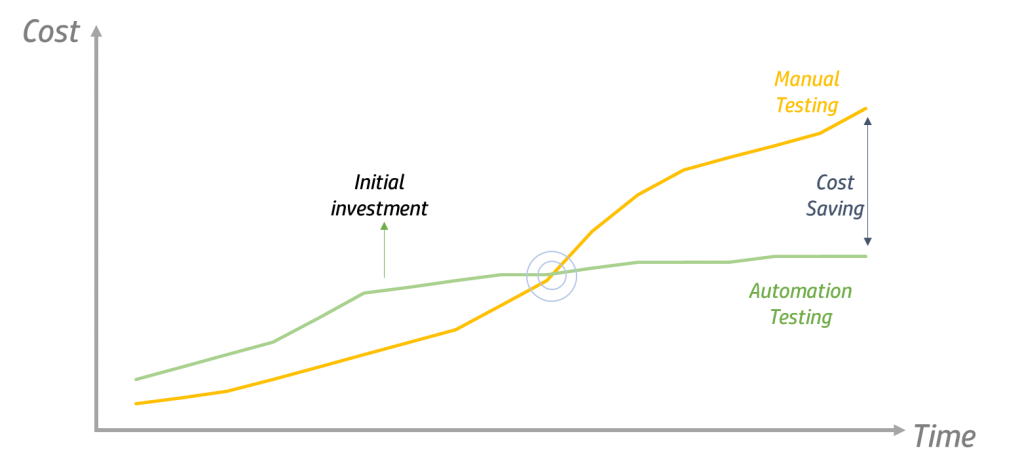 Why should we implement an automation test in our project?
Pros
Speed – automation gives us the ability to verify everything for every code change. This ability increases the software's robustness and gives us high confidence in our day-to-day code changes.
Automation Saves Time – the QA tester should run many regression tests alongside the SW development process. This action can take a big part of the tester work if we want to verify that our features are still functioning despite the changes in code we can do manually or automatically. You guessed right— automation test is doing the hard work and doing it faster.
Reuse Test Increases the Coverage — it is very easy to reuse automation tests and run them in different environments or on different browsers.
Reduces Mistakes – manual testers commit mistakes from time to time because they are humans. But the automation test is a PC program that always runs in the same way. Therefore, our test report is more reliable.
Reduce cost – by doing all of the above, we are reducing the cost of the tests but also the development cost. When we quickly run the test, report it, and identify errors, we are on the right path to delivering our product fast and with the confidence that it is of high quality.
Cons
Initial investment- It takes time to build an automation infrastructure.
In some cases, we can not only use the free tools; we need to pay for a license.
Skilled testers are required; in fact, automation testing is equal to SW development
False alarm – when we get an error in our test report, an investigation is required; in some cases, the problem is our test and not our product.
What should we enter for our automation project?
Sanity Tests
Regression Tests
Multiple data Test
Visualization test
Logging and errors
What shouldn't we enter for our automation project?
Usability Test
On-Time Tests
Must be done now
Exploratory/random tests when we don't have clear expected results
In conclusion, the QA automation test project doesn't fit every product. However, if your product has the basic roles I mentioned above, it will probably be beneficial, especially if you implement it early in your project.
Contact us today for implementing QA automation tests!
Care to chat?
Message us on WhatsApp